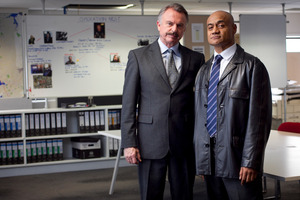 Actors Oscar Kightley and Sam Neill traded jokes and stories yesterday in between the serious work of filming a crime drama series in a mock-up of a South Auckland police station.
The friendship of actor and writer Kightley (Sione's Wedding) and international leading man Neill is an asset for the six-part series, Harry, which is to screen on TV3 next year.
Kightley plays Detective Harry Anglesea, a Ponsonby Samoan solo father, who is investigating a murder case.
Neill, as Detective Jim "Stocks" Stockton, is Harry's boss, mentor and mate.
Desert Road film company executive producer Steven O'Meagher said the men's friendship translated into great on-screen chemistry.
It is Neill's first New Zealand TV drama series, and he was drawn to the role after reading the draft script, which was co-written by Kightley.
Yesterday, visitors to the filming location - an office block in Newton - included Auckland Mayor Len Brown and Mayoress Shan Inglis, who watched some scenes being filmed.
The series has $3.5 million from New Zealand on Air's Platinum Fund.