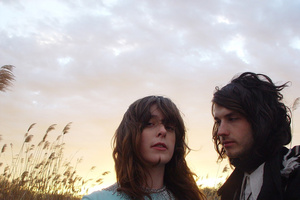 Baltimore dream pop duo Beach House. Photo / Supplied
Also a guy-girl outfit with female vocals, and a similar beach association as Best Coast, but this Baltimore dream pop duo (Victoria Legrand and Alex Scally) are a slightly different proposition. Rather than a sun-soaked Santa Monica with roller-skating beach babes, Beach House's patch of sand would be a little more windswept, isolated and dramatic.
Bloom, their fourth album, is their largest and most epic since their inception, heading towards Sigur Ros territory, and there's more than a touch of the 80s in their production and arrangements. They've extended themselves, pushing their bittersweet nostalgia, heartbreak and strange memories further and wider, with Scally creating cascading soundscapes that mimic shifting light, and fleeting emotion. His synth-heavy palette, cut with youthful, chiming guitars, somehow creates a web of intimacy, while also being boldly and sweetly pop-oriented.
Stars: 4/5
- TimeOut