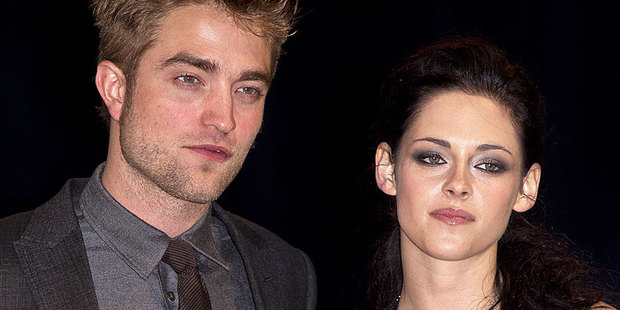 Robert Pattinson has told Kristen Stewart that she "completely humiliated" him and he made his Twilight co-star apologise in a written statement.
The Twilight Saga stars' off-screen relationship hit a rough patch after she admitted that she had cheated on him with Snow White and the Huntsman director Rupert Sanders.
According to reports Pattinson believes that "all the trust has gone" after he found out about her affair.
A source told the Daily Mirror newspaper: "Rob is devastated and deeply hurt.
"They spoke on the phone and he said 'You've completely humiliated me'. All the trust has gone."
Pattinson, 26, has been dating his 22-year-old co-star for three years.
She told him the fling was just a "one off".
He demanded she apologise for her involvement with the 41-year-old film boss and she agreed.
She said in a statement: "I'm deeply sorry for the hurt and embarrassment I've caused.
"This momentary indiscretion has jeopardised the most important thing in my life, the person I love and respect the most, Rob. I love him, I love him, I'm so sorry."
The source added: "Robert wanted the world to know that he hadn't done anything wrong and that she had made a fool of him publicly.
"He still can't fathom why she cheated. Kristen is begging for another chance. Robert is undecided."
An American magazine revealed it had pictures of the pair "in a marathon make-out session" in Hollywood.
KRISTEN STEWART SEEKS FORGIVENESS
Kristen Stewart is reportedly planning to write an apology letter to Rupert Sanders' wife.
The 22-year-old actress - who made a public apology to her boyfriend Robert Pattinson yesterday for cheating on him with the director - is seeking forgiveness from Sanders' wife, British model Liberty Ross, and decided to do so in private as she "didn't feel it was appropriate" to include her in her statement.
A source said: "Kristen didn't feel it was appropriate to issue a public apology to Liberty once the story of her affair with Rupert broke.
"Instead, she's going to do the decent thing and write Liberty a private letter expressing her deepest regret for her actions.
"She was thinking of including Liberty, Rupert and the kids in her public apology - but Kristen was so desperate to save her relationship with Rob she decided to concentrate on that first."
Stewart feels "awful" about her illicit affair, particularly because Sanders and Ross have two young children, Skyla and Tennyson.
The source added to RadarOnline.com: "Kristen feels she made a terribly naive mistake and will do anything to make amends. The fact that Liberty and Rupert have two kids has now dawned on her and she feels awful for what she did."
Stewart described the relationship as a "momentary indiscretion" in her apology yesterday.
Sanders also issued an apology, saying he was "utterly distraught" about his actions.
He said: "I am utterly distraught about the pain I have caused my family.
"My beautiful wife and heavenly children are all I have in this world. I love them with all my heart. I am praying that we can get through this together."
ROBERT PATTINSON MOVES OUT
Robert Pattinson has moved out of the Los Angeles home he shared with Stewart.
The heartbroken actor packed his bags and left the couple's residence after she confessed to cheating on him, and he is now said to be in seclusion.
A source told People: "I'm not sure they'll be able to recover from this. Robert is heartbroken and angry."
After pictures emerged of Stewart and Sanders - who has two children with his wife Liberty Ross - kissing, the 22-year-old actress issued a statement saying how sorry she was.
Stewart is determined to win Pattinson back with the insider adding: "Kristen really loves Rob more than anything. He's all that matters to her right now."
Both Pattinson and Stewart reportedly cried after she admitted to cheating on him.
The couple - who have been dating for almost four years since meeting on the set of the Twilight Saga franchise - have come face to face since the truth about her relationship with director Rupert Sanders was revealed and it left them both devastated.
A source told Hollywoodlife.com: "Rob has been in contact with Kristen and has already had the awkward first meeting with her in person since the news. Tears have certainly been shed over the whole situation from both. It's a complete mess right now with them."
Pattinson is sure to have been devastated after hearing that Stewart and Sanders couldn't keep their hands off each other in Los Angeles last week.
The pair were spotted indulging in a series of passionate embraces by a photographer who said the Snow White and the Huntsman director was "all over" his leading lady.
A source told Us Weekly magazine: "He was all over her" while another source added they "would only take a break [from kissing] when they thought someone was walking by".
A photographer followed Stewart, 22, from her Los Feliz home on July 17, when the actress pulled into the parking lot of a deserted building and Sanders, 41, got into her car.
The source explained: "It seemed like they couldn't get enough. Kristen was sitting up with her back against the driver's-side window, and this guy was kissing her entire body."
The pair left when they thought they were being watched and drove to an area near the Hollywood sign and Stewart appeared "swept up in the moment" as they kissed and cuddled outside the car.
While the area they were in was quite deserted, they were disturbed by some dog walkers and each time "as soon as they heard a voice, they would split up and walk in opposite directions".
GAGA TWEETS ABOUT STEWART'S CHEATING
Lady Gaga defended Stewart's cheating, telling people to leave them alone.
She tweeted: "Geez this kirstew rob stuff is brutal. Makes me sad the way press acts. Hope they're ok (sic)."
Stewart and Pattinson have been dating since meeting on the set of Twilight four years ago, in which they play vampire Edward Cullen and his love interest Bella Swan.
- Bang! Showbiz