Australian model Lara Bingle calls New Zealand "cold" and "eerie" in a new advertisement shot in June. That and plenty more is included in this wrap of the 10 best links you'll see today.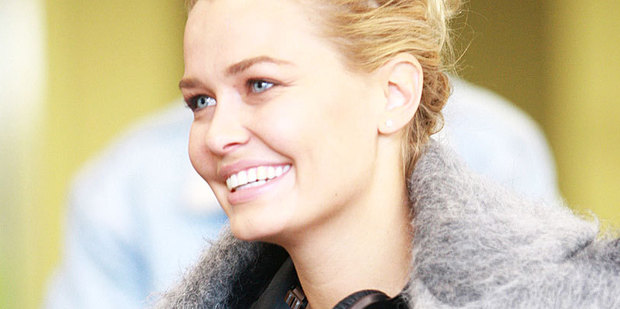 1. Remember when Lara Bingle was in New Zealand and the country's gossip columnists went into a frenzy? Here's the reason she was here - an ad for Air New Zealand narrated by Rhys Darby. Watch as Bingle disses our country as "cold" and "eerie" before falling in love with Queenstown's scenery, gasping at our mountainous views and falling flat on her face in the snow. Oh, and her guide Hayley Holt dishes about her relationship with Richie McCaw. Yikes. (Twitter)
2. If you've ever wanted to see all five seasons of The Wire condensed into a four-minute video with key scenes re-enacted by Lego characters, you're in luck. Yahoo! internet sketch show Sketchy has done just that, complete with lookalike figurines, a drunk McNulty, bloody shoot outs and a sly dig at the show's controversial second season.
For the record, I thought the season based in the docks was underappreciated. (Uproxx)
3. Punisher fans rejoice: Thomas Jane has shot a new 10-minute short film starring the comic book hard man. Jane called it a "love letter" to Frank Castle and his fans, but be careful - #Dirtylaundry is very, very violent. But if you're a fan you knew that already. (YouTube)
4. Speaking of comic books, a fan-made movie based on Y: The Last Man - about the last man and his monkey living on an Earth populated only by women - has been so popular online, it's reignited calls for a proper, scripted movie. You have to admit, for a fan-made film, it's got pretty good production values. (YouTube)
5. Shihad have released a one-off single before heading into the studio to begin work on a new album, the bouncy and grunty track Right Outta Nowhere. It's no return to the bleeding fingers days of Killjoy, but there are signs Jon Toogood and the boys are heading in a heavier direction - and that can only be a good thing. (Soundcloud)
7. Korean performer PSY has apparently been AWOL for a couple of years, but here's his bonkers new track Gangnam Style. You'll be busting out the dance moves yourself by the end. (Facebook)
8. Kryten, Rimmer, Lister and Cat. If you don't know who they are, you probably shouldn't watch the new trailer for the upcoming season of British sci-fi sitcom Red Dwarf. (NME)
9. Heard the new No Doubt song? Erm, yeah, Gwen Stefani still rocks, but why did they use those weird Calypso rhythms and bizarre strings in their big comeback single? Check it out for yourself here. (YouTube)
10. Yay! You made it to the end. Your reward is this mash-up track featuring Lana Del Rey and Jay-Z called National Empire. You're welcome. (Just Jared)