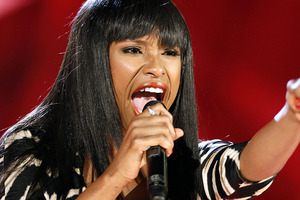 Oscar-winning actress Jennifer Hudson shook her head in disgust as her brother-in-law proclaimed his innocence prior to receiving a life sentence for slaying her mother, brother and young nephew.
William Balfour, the estranged husband of Hudson's sister Julia, was convicted in May of killing his in-laws in October 2008 and then hiding his stepson's body to try to cover his crimes.
It was three days before the boy's desperate mother and aunt learned that he was also dead and not just held captive.
Judge Charles Burns sentenced Balfour to life without the chance of parole - a mandatory sentence given his conviction on multiple murders.
"Your soul is as barren as dark space," Burns told Balfour as he ordered that the three life sentences be served consecutively to ensure Balfour never tastes freedom.
Balfour was sentenced to an additional 120 years in jail as a result of hefty consecutive sentences Burns imposed for the additional charges of kidnapping, home invasion and possession of a stolen vehicle.
Prosecutors said Balfour acted out of an obsessive jealousy when he shot his way into Hudson's childhood home and killed everyone inside after getting into yet another argument with his estranged wife.
Julia Hudson was at work at the time of the shooting and came home to find her mother, Darnell Donerson, 57, dead on the floor in her nightgown.
She was so distressed that she ran outside to call police and did not realise immediately that her brother, Jason Hudson, 29, was dead in his bed or that her son was gone without a trace.
Julian King was eventually found hidden under a shower curtain on the floor of his uncle's stolen sport utility vehicle, which had been parked across town.
Crime scene photos shown at trial showed his lifeless little arm stretched out across the back seat.
The murders in Chicago's South Side upended Hudson's life less than two years after the one-time American Idol contestant collected a best supporting actress Oscar for her role in Dreamgirls.
Hudson, who released her second studio album I Remember Me in March 2011, and sang I Will Always Love You in memory of the late Whitney Houston at this year's Grammy awards, attended the entire trial.
She was accompanied by her longtime partner, professional wrestler David Otunga, her sister, other relatives and security guards.
- AFP