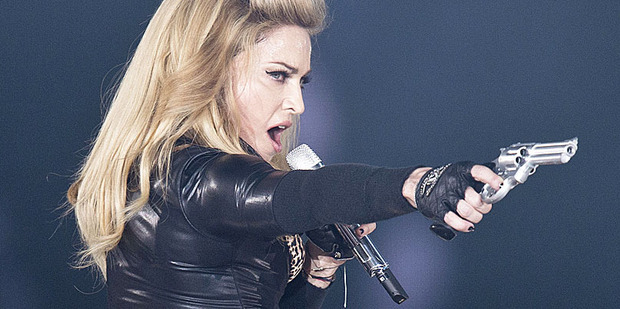 Madonna ignored pleas to tone down her show at a concert in Scotland after the Colorado cinema massacre, brandishing a fake machine gun and pistol onstage.
Police officials advised the pop superstar not to include images of firearms and weapons themselves during the Murrayfield Stadium gig in Edinburgh in the wake of the Colorado cinema massacre on Friday.
But she defied local authorities and hit the stage with fake pistols and an AK47 assault rifle - as she has at all the shows on her worldwide MDNA tour.
"Madonna and her dancers using replica guns was always in bad taste but given what happened in Colorado it is even worse. She should know better," a spokeswoman for the Mothers Against Guns organisation has told local newspaper the Daily Record.
Scottish Labour's Graeme Pearson agreed, saying it was "crass and insensitive" and the pop star "should have known better".
Insiders told the paper her first ever show in Scotland could be stopped if she defied the requests, but the show went ahead without a hitch.
-WENN