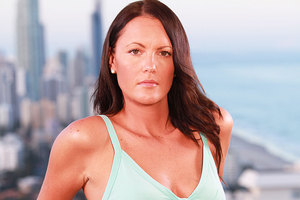 Reality TV star Jade Louise Dewson has taken to Facebook to announce the end of her relationship with her co-star Tame Noema.
The couple hooked up near the end of the first season of TV3's controversial reality show The GC - which followed a group of Maori friends living together on the Gold Coast - and recently embarked on a three-week promotional tour of New Zealand together.
But they refused to answer questions about their relationship during the tour, with Noema telling the Herald on Sunday: "I really don't want to say anything about that."
Dewson had told a woman's magazine that Noema had moved into the Gold Coast home she shared with her nine-year-old son Harlan and gushed about getting married, having children and "spending the rest of our lives together".
Dewson announced the split on her Facebook page today, saying it was the "hardest decision I've ever had to make".
"Tame and I are no longer together," she wrote.
"Our love was so real and for seven months we were really happy. But once trust is broken, it's hard to get it back. I have myself, my son and my music to think about.
"So I made the hardest decision I've ever had to make, and ended it. I want nothing but happiness and success for Tame and wish him all the best, with hopes that maybe one day down the track we can be good friends again."
She thanked her fans for their support.
A second season of The GC is yet to be confirmed. The GC - a reality TV show in the style of Jersey Shore - attracted criticism after being partially funded by NZ on Air, and for its lack of Maori culture, which featured heavily in its funding application.
- Herald online with Herald on Sunday