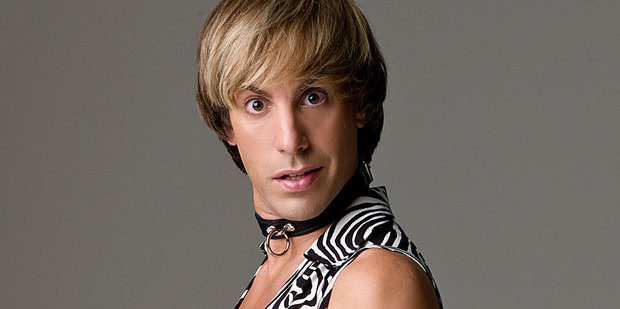 Sacha Baron Cohen has settled a $110 million lawsuit with a Palestinian man who was portrayed as a terrorist in Bruno.
Grocer Ayman Abu Alta was interviewed in the spoof documentary by the gay Austrian fashion journalist - played by Cohen - and under his name a caption appeared on screen which read "Terrorist group leader, Al-Aqsa Martyrs brigade".
Later in the comedy movie - released by Universal Pictures in 2009 - the fake character also appears on The David Letterman Show and recalls his meeting with a terrorist and footage of Ayman is shown.
In his lawsuit, Alta claimed he had received death threats and had endured a massive "loss of reputation" because of the movie.
According to RadarOnline.com, the legal dispute has now been resolved and although details of the case are confidential, Alta's lawyer Joseph Peter Drennan did reveal it had been "settled to the mutual satisfaction" of everyone involved.
Cohen is no stranger to controversy and admits his 'mockumentary' style of film-making has resulted in him fearing for his life on occasions.
The 40-year-old star - who is married to Isla Fisher - came "close" to being murdered or seriously hurt while shooting Borat - which featured him as a racist and sexist Kazak journalist - and Bruno, in which he travelled to Jerusalem and insulted former Mossad agent Yossi Alpher.
He previously said: "In those last two movies there were lots of people with guns who got angry and it became a little hairy at times. I never felt I'd get killed, but it has been close."
Cohen's last movie The Dictator saw him star as fictional tyrant General Aladeen of the Republic of Wadiya.
- Bang! Showbiz