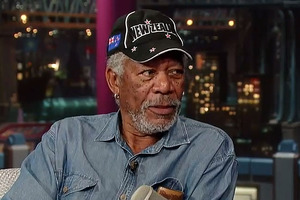 Hollywood star Morgan Freeman has given a seemingly random shout out to New Zealand during an interview with David Letterman.
Appearing on Letterman's Late Show on Monday night, the Dark Knight Rises star wore a black baseball cap on top of his head that featured the words "New Zealand" as well as the flag and the Southern Cross.
As was reported by More FM on Facebook, Freeman, 75, evaded Letterman's questions about why he was wearing the cap.
"You're wearing a hat from New Zealand. Rugby World Cup. Are you a rugby fan?" asked Letterman.
"No," replied Freeman. "One of those things."
Letterman moved on to question about Freeman's role in The Dark Knight Rises, his TV show Through the Wormhole, and how his injured hand was preventing him from playing golf.
Freeman starred as Nelson Mandela in the 2009 Clint Eastwood film Invictus, which featured a rugby match between New Zealand and South Africa.
The unusual wardrobe item prompted several positive comments on YouTube.
"What an AWESOME cap Mr Freeman? has on... NZ for life!!," said commentator 'sportypaulos'.
"One of my all time fav actors and now with a Kiwi hat? - THE MAN!" said 'DrHeuristic'.
It isn't the first time New Zealand has featured on Letterman's show.
Prime Minister John Key famously hosted Letterman's Top 10 list in 2009 in a guest spot that was paid for by Tourism New Zealand. They didn't respond in time for publication to Herald queries as to whether they had asked Freeman to wear the hat.
- Herald online