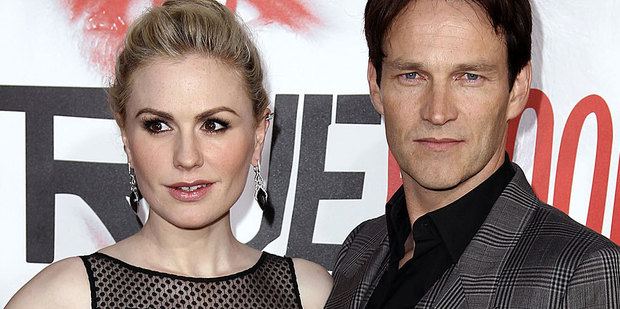 It's official: Anna Paquin is expecting a double delivery later this year.
True Blood star Stephen Moyer, who plays vampire Bill Compton alongside wife Paquin in the hit HBO show, has finally confirmed previous reports that they have twins on the way.
Moyer, who has two children, Lilac, 10, and Billy, 12, from a previous relationship, dished to Us Weekly about Paquin's pregnancy over the weekend.
"I love my kids beyond anything," the actor told the mag at a post-Comic Con party in San Diego on Saturday. "They're the best things ever, and having two more is just going to be even more crazy, but that's cool."
Moyer also said Paquin was doing well, adding: "She's good. She's in bed and I am going to be there very soon myself!"
Michael McMillian, who plays Steve Newlin on the vampire drama, chimed that the show's cast has "been impressed" with how the Kiwi star is handling her pregnancy.
"The show is taking great care of her, and I think she's probably really happy that she has some time off now to focus on what's to come," he said.
"Stephen is already a terrific father and they make an amazing couple. Anna is really excited, as any expectant mum is. I think they're going to be pretty cool parents."
Paquin and Moyer's co-star Sam Trammell - who himself welcomed twins with girlfriend Missy Yager in August 2011 - let slip the news last month.
"I'm so excited for them," he told Us. "We sent them a special gift. It's so interesting that True Blood has become, like, the 'twins' show."
Trammell also doled out some advice on raising twins.
"It's harder, having twins, but it's all we know," he said. "So we're trying to impart some decent wisdom.
"I told them to hold on tight!"
In May, Moyer told The Hollywood Reporter that Paquin's pregnancy has made their relationship that much more exciting.
"It's always amazing," he said. "I love my kids so much and that fact that Anna is pregnant just adds more crazy to the bundle of fun."
Paquin and her baby bump also made an appearance alongside her husband at a panel for the show at Comic Con on Saturday.
"Congratulations on the babies!" shouted an audience member. "Thank you!" Paquin replied, according to People.com.
Moyer and Paquin married in Malibu, California in 2010 after two years of dating.
Congratulations to the soon-to-be parents!
- Blogger Bites Back