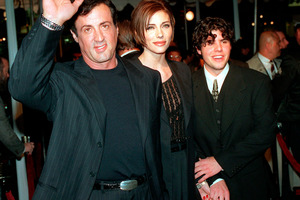 US screen actor Sylvester Stallone says there is "no greater pain" than losing a child, and called for an end to speculation about the death of his eldest son Sage last week.

The Rambo and Rocky star urged the media and others to respect the memory of his 36-year-old son, as it emerged that the young actor was actively planning his own wedding in Las Vegas when he died.

"When a parent loses a child there is no greater pain. Therefore I am imploring people to respect my talented son's memory and feel compassion for his loving mother Sasha," he said in a statement.

"This agonizing loss will be felt for the rest of our lives," he said, adding: "Sage was our first child and the center of our universe and I am humbly begging for all to have my son's memory in full left in peace."

Stallone said he issued the new statement "in reference to the speculation and questionable reporting surrounding the death of my son Sage."

Sage Moonblood Stallone was found dead at his Hollywood home on Friday. An autopsy was carried out on Sunday, but the LA County Coroner's Office said toxicology reports would take some 10 weeks.

Some prescription pill bottles were taken from the apartment but authorities have said little about the cause of the death. There was no sign of foul play or trauma, nor a suicide note, said Ed Winter of the coroner's office.

His father was in San Diego at the annual Comic Con festival to promote his latest movie Expendables 2 when he was told about his son's death.


Sage Stallone's attorney George Braunstein said he had never seen Stallone take drugs or drink alcohol.

"Never, no, not from the day I met him," Braunstein told E! news. "I never knew him to drink alcohol. I never saw him take drugs. I never knew of anything like that at all."

"The last conversation I had with him, he was telling me about, he was getting married, and he was planning a kind of an exciting costume wedding in Las Vegas," he said.

The young actor appeared in the 1990 film Rocky V as Rocky Balboa Jr, the son of his father's title character. The pair also appeared together in the 1996 movie Daylight.

He is credited with 13 big-screen roles as an actor, while he was a producer on three films, including the 2006 short Vic which he also wrote and directed.

Braunstein said the family was waiting to hear the cause of death while planning a funeral.

"I'm going to wait to see what the coroner says... I think it was either natural causes or a terrible accident. I don't think it had anything to do with drugs, he wasn't that kind of guy," he said.

"He wasn't anyone trying to take his life," he added.

- AFP