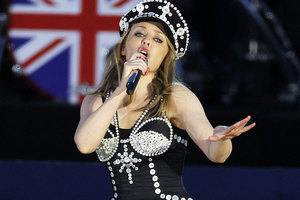 A huge London concert that was to reunite Kylie Minogue and Jason Donovan for the first time in more than 20 years was cancelled as torrential rain turned the outdoor site into a mudbath.
The Hit Factory Live tribute gig for music producers Stock, Aitken and Waterman was meant to have taken place in Hyde Park in central London on Wednesday.
Fans had snapped up tickets to see Minogue and Donovan reprise their 1988 hit duet Especially for You.
But the downpours that have soaked Britain for weeks combined with last weekend's Wireless music festival meant the site had become churned up, leaving organisers with no option but to cancel.
"The potential risk to staff and music fans was too great for the event to go ahead," promoters Live Nation and the Royal Parks said in a statement, adding that ticketholders would receive refunds.
Bosses are undertaking a clean-up mission and have assured music fans that upcoming gigs by stars including Cold Chisel, Madonna and Bruce Springsteen will go ahead as planned.
Minogue said she was sorry to hear tomorrow's gig - for tens of thousands of people - had been pulled, adding: "I feel for all the fans."
Steps, Bananarama and Rick Astley had also been due to perform at the Hit Factory Live event.
Pete Waterman plus the production team of Mike Stock and Matt Aitken and the PWL record label launched dozens of pop careers, including Minogue's.
This year marks the 25th anniversary of PWL, which was Minogue's recording home in the early days of her career.
"I am so sorry to hear that the concert tomorrow had to be cancelled," Minogue said.
"I feel for all the fans who had bought tickets to this special event.
"Jason and I were rehearsed and excited to share this moment with everyone."
Donovan admitted he was "extremely disappointed" at the decision, but he's quietly hoping for another chance to hit the stage with his one-time girlfriend and former Neighbours co-star.
In a series of Twitter posts on Tuesday, Donovan wrote, "Yesterday was a great rehearsal .... Band, Songs and even my voice was all sounding great (and) Kylie and I were really looking forward To singing Especially For You for the first time LIVE... Well... You never know, I'm sure we'll get another chance!! Fingers crossed."
Donovan and Minogue won wild popularity as couple Scott and Charlene in the soap opera Neighbours in the late 1980s and were a real-life couple at the same time - but their romance did not last.