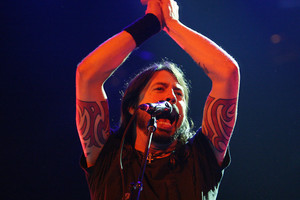 Rocker Dave Grohl has been honoured in his native Ohio with the world's largest pair of drumsticks.
Two 408.2kg sticks were carved from local logs and went on display outside the Warren Amphitheater in his hometown of Warren on Saturday as a thanks for putting the city on the map.
The massive wooden sticks have since been declared the biggest ever made and have gone down in Guinness World Record history - and Grohl is flattered by the unusual accolade.
He posted on Twitter: "To the wonderful city of Warren, from the bottom of my heart I'd like to thank you all so much. For the childhood memories. For my family. For my very own alley. For the world's largest drumsticks! And for all of your support. But most of all for being such a great community. One that makes me proud to say I am from Warren, Ohio!"
In September, the logs will be moved to Dave Grohl Alley - the part of town named after the former Nirvana drummer.
- WENN