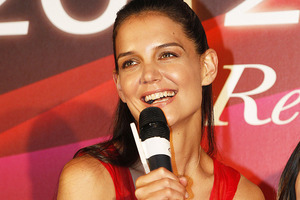 A former Scientologist claims a public custody battle between Katie Holmes and Tom Cruise over their daughter Suri could destroy the cult forever.
Marty Rathbun was regarded as one of Scientology's most powerful members during his 22 years as part of the church. He was the person who audited Tom when he joined the organisation but left in 2004.
He told The Hollywood Reporter a public custody battle over Suri, 6, could harm Scientology forever and advised Cruise not to fight Holmes' demands.
"Katie could blow Scientology wide open. If Tom's smart, he won't fight her on anything, even custody. He should just try to settle his way out of it.
"She could press this sole-custody issue and litigate it, and that would be the biggest nightmare in the Church of Scientology's history.
"It would be a circus they couldn't survive."
HOLMES FIRED CRUISE'S DAUGHTER BEFORE DIVORCE
Katie Holmes fired Tom Cruise's daughter "out of the blue" two months before she filed for divorce.
The former Dawson's Creek actress shocked Isabella Cruise - the actor's 19-year-old offspring with ex-wife Nicole Kidman - when she dismissed her from her duties at clothing firm Holmes & Yang and insiders claim the shock move was part of her strategy leading up to last week's separation announcement.
A source said: "There was never any trouble between them. Bella called Katie, 'Mum'. She was fired out of the blue, and once Katie filed for divorce, it all made sense. This was a carefully planned ambush. Katie didn't want Bella working for her anymore because she was Tom's kid."
CRUISE WANTS VISITATION RIGHTS
Tom Cruise has made it his "first priority" to get temporary visitation rights to his daughter.
A source said: "Tom has told Dennis Wasser and Bert Fields, his long-time entertainment lawyer, that his first priority is getting a court order in place, obviously a temporary one, that will allow him to legally see his daughter.
"Team Cruise has extensive documentation to prove that Los Angeles is where the case should proceed, because this is where he says they have lived. Tom is extremely disappointed that Katie filed in New York, and he feels that she is trying to cut him out of their daughter's life.
"Tom won't tolerate it and told his lawyers that if he personally needs to go to court and make a plea in front of the judge for an order allowing him to see his daughter, he will."
KATIE HOLMES: 'IT'S LIKE A NEW PHASE'
Katie Holmes talked about launching a "new phase'' in her life weeks before her divorce bombshell, according to a new interview.
Her interview with Elle magazine, conducted before last Friday's announcement that she was ending their five-year marriage, comes as Tom Cruise reportedly denied Scientology sparked the couple's split.
In the article, Holmes said she felt "sexier" than ever.
"He has been Tom Cruise for 30 years - I know who I am and where I am and where I want to go, so I want to focus on that," she said in excerpts published online from the magazine's August edition.
Asked if being Cruise's wife helped her in the film industry, she said: "Things are not handed to anyone. If anything, you work a little bit harder when you're in such visible circumstances."
And on being in her 30s, she added: "I definitely feel much more comfortable in my own skin. I feel sexier. I think in my twenties, it's like you're trying too hard to figure everything out, I'm starting to come into my own.
"It's like a new phase,'' added the 33-year-old in the interview, reportedly conducted six weeks before she filed for divorce in New York, apparently taking Cruise entirely by surprise.
Meanwhile, celebrity news website TMZ cited sources close to Cruise as denying that Holmes filed for divorce because she fears he plans to take their six-year-old daughter Suri deeper into the Church of Scientology.
TMZ and other news media have cited sources in the Holmes camp as making that suggestion, triggering a denial from the controversial Church, of which Cruise is one of the most prominent members.
The usually well-informed website on cited sources "directly connected" to Cruise claiming that Holmes' team were leaking false stories to the media that she was trying to save Suri from the grips of Scientology.
"She was totally committed to Scientology. She had enthusiasm for it and would voluntarily and gladly participate in it when Tom was off shooting movies," said one Cruise source.
"This is not a fight over religion. It's being used as a way to hurt Tom," the source added.
The Church has denied sending anyone to follow Holmes, while also dismissing reports that Cruise wanted their daughter to join the Sea Organization, described as a boot camp for the controversial religion.
"There is no truth whatsoever to the TMZ.com report (or any other report) that the Church of Scientology has sent anyone to follow or (survey) Katie Holmes," lawyer Gary Soter said.
Meanwhile E! Online reported that Holmes is scheduled to face a family court judge in New York on July 17, adding that there is no emergency hearing scheduled on custody and child support for the couple's daughter.
Her lawyer told People magazine that "other than her action for divorce, the only pending application filed by Ms Holmes remains her request for an anonymous caption," referring to when court papers are filed anonymously.
The Los Angeles Times reported that Holmes hopes to avoid a public fight and will not haggle over money, but is concerned about how Suri is raised.
It cited a source as saying that Scientology and what role it would play in the upbringing of the couple's daughter was a key factor in the split.
- Agencies