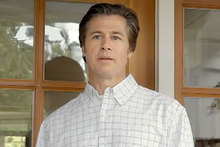 1. Meet Doug Pitt. He likes to make lasagne, listen to classic rock in his man cave, rave about the quality of his printer/fax machine, and mow his lawns. He also plays a mean game of basketball. Oh - he's also Brad Pitt's brother. Check out his piss-taking commercial for Virgin Mobile Australia here. (SMH)
2. Ever wanted to feel like you were in a real life episode of The Walking Dead? Then check out these plans for a zombie theme park based in an abandoned Detroit neighbourhood, complete with dodgy pencil drawings of zombie melees. Braaaaaains. (Shortlist)
3. Here's a 20-minute interview with Ricky Gervais and Karl Pilkington, in which Gervais tries to guess what Pilkington's favourite things are.
Hilarity ensues. (YouTube)
4. Childish Gambino's new mixtape Royalty features Ghostface Killah, RZA and Beck and is worth the download just for Toxic, a track that reimagines Britney Spear's pop hit and features a hilarious verse from rapper-of-the-moment Danny Brown. (PMA)
5. "This guy wins the internet" said one tweet about this dude who rips through 100 classic rock riffs in around 12 minutes without missing a beat. At least till the next History of Rap video drops from Jimmy Kimmel and Justin Timberlake, he can have the title. (Vimeo)
6. New Blur songs! Two of them in fact. So read our story on it here and click through the links to watch the Britpop icons perform Under the Westway and The Puritan, the second of which, is my fav. (YouTube)
7. Serj Tankian's new album Harakiri comes out any day now, so check out the first track and album trailer here. Warning: Includes political ranting. (Loudwire)
8. Jesse Eisenberg gets caught up with drug dealers in the new trailer for Can't Stop Now, which, as Empire rightly points out, looks a bit too similiar to his last film, 30 Minutes or Less. (Empire)
9. Check out the trailer for Compliance, a film about a fast food joint in Ohio that's terrorised by a police officer on the phone and was apparently inspired by true events. It's all a bit creepy so watch for yourself here. (Apple)
10. Yuss, you made it to the end. Your reward is this video of Truebliss in their prime. Enjoy. (YouTube)
Follow Chris Schulz on Twitter.
By Chris Schulz @chris__schulz

Email

Chris