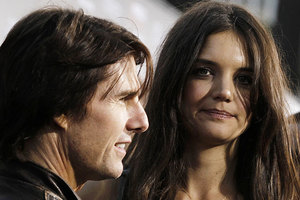 Katie Holmes says she is doing "all right" as details of her separation from husband Tom Cruise unfold.
The former Dawson's Creek star allegedly spoke to a reporter while she was doing some grocery shopping with Suri.
She told New York's Daily News: "I'm all right ... Thank you."
The actress was visiting a Whole Foods store where she shopped for what looked like barbecue supplies, including hamburger meat, buns, strawberries and bananas.
The 33-year-old actress pushed her daughter around in a cart.
Her father Martin Holmes was also spotted bringing a custom-made cake along with plates, forks and napkins to the three-bedroom apartment in New York City where his daughter and granddaughter moved as Katie filed for divorce.
When asked how the family was doing, Martin said, "We're fine, thank you."
The mother and daughter spent that day getting ice cream in the East Village area.
An eyewitness told website People.com: "Katie looked happy and was friendly to the customers and staff while Suri sat on her mum's lap."
HOLMES SEEKS URGENT HEARING
Katie Holmes has filed for an emergency custody and child support hearing in New York.
The 33-year-old actress - who began divorce proceedings against estranged husband Tom Cruise last week - requested an "emergent application" in New York City court yesterday to determine immediate custody and child support issues over the couple's six-year-old daughter, Suri.
The filing means Cruise - who is being represented by Dennis Wasser, one of Los Angeles' top divorce lawyers - will have to hire his own New York-based attorney and the couple will have to appear before Judge Matthew Cooper on July 17 in an open court.
A source said: "Katie filed an 'emergent application' in New York City on July 3. It's a motion seeking temporary emergency relief, which can include child support and custody. It also means that Tom is going to have to hire a New York lawyer - he can't use his California lawyer anymore.
"The motion also means that both Tom and Katie have to be present in court on July 17. A judge is now assigned to their case, which means it's no longer going to be an out-of-court settlement. They are scheduled to appear before Judge Matthew Cooper on July 17 at 9:30am."
Insiders believe Holmes - who married Cruise in November, 2006 - took out the emergent application because she didn't think the 50-year-old actor would co-operate with her.
The source added to website Hollywoodlife.com: "Katie doesn't anticipate Tom co-operating, and there have been rumours that he's going to file in California and argue that litigation should be there rather than New York. Bottom line: if you file an emergency motion, you don't believe there's going to be cooperation from the other party or you need an order that only the court can give.
"It might have something to do with trying to control the media.They filed under anonymous verses anonymous to avoid the media. Most celebs do that.
"It's unlikely for a celebrity to file an emergency hearing, because most celebrities settle out of court because they don't want the media involved in their case. Katie and Tom are now going to have an open court room, which means that anyone can walk in and see what's happening.
"Plus, they are putting their case in the hands of a judge who is going to determine what happens next. Most public figures don't want that - it's a last resort. It's super-aggressive for Katie to have taken these steps.
"It suggests that there's going to be a contentious divorce battle to come."
HOLMES REJECTS CRUISE'S PLEAS FOR REUNION
Holmes reportedly rejected Cruise's plea for her to fly to Iceland to save their marriage.
Last week, the 33-year-old actress' husband begged her over the phone to come and visit him and celebrate his 50th birthday on the set of his movie Oblivion but she refused, sparking a blazing phone row.
Katie then filed for divorce soon afterwards.
A source told Usmagazine.com: "He begged her to go to Iceland for one last try at reconciliation. She refused and a huge fight ensued."
Meanwhile, Cruise's lawyer has stated the star hasn't made any decisions on how he will fight Katie's request for sole custody of their six-year-old daughter Suri and is currently considering his options.
Bret Fields explained: "Tactically we can't say where Tom will file a divorce case and if he'll be seeking joint custody of Suri. We are letting the other side play the media until they wear everyone out and then we'll have something to say.
"It's not Tom's style to do this publicly. He is really sad about what's happening."
Cruise is believed to have flown back from Iceland to the US yesterday.
It has been claimed Holmes ended their five-year union because she was concerned he wanted to send Suri to the Sea Organisation - a floating Scientology school.
Those on board the ship are required to commit themselves to the quasi-religious sect for a billion years and allegedly asked to disconnect from any non-believers.
A source said: "In the end we're told Katie felt the only way to prevent Suri from joining the Sea Org ship was to file for divorce and seek sole legal custody."
However, a lawyer representing the Church of Scientology - which was created by science fiction writer L Ron Hubbard - has claimed no one under 16 is allowed to study on the cruise liner, adding "consent of both parents and/or all legal guardians" must be given before anyone is allowed to board.
- Bang! Showbiz