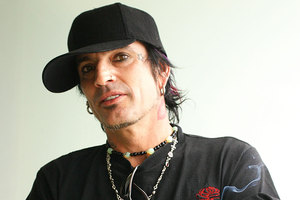 Motley Crue rocker Tommy Lee has blasted his fans for annoying him when he's out and about.
In a rant posted on the band's Facebook page and reported by Ultimateguitar.com, the drummer said he was sick of being asked for photos and interrupted during meals by curious fans.
Fans have responded negatively to the post, which attracted more than 2000 comments since it was posted on June 29.
Lee wrote: "What I have a problem with is taking pictures! I hate it! Irritates the f**k out of me when people say you owe it to your fans, they put you where you are, etc etc!
"I certainly dont owe anybody anything! ... And to those who say you should be grateful that people wanna take your picture maybe one day they wont want it, that day can't come soon enough.
"I'm not here to take pictures with you, I'm here to entertain you!" (sic)
Crue went on to say he had been approached by fans while in the toilet, and during a "nice, quiet" meal with his family.
While some fans agreed with the sentiments, many responding unkindly.
Cindy Weigold told the rocker to "get over yourself".
"I love Tommy Lee but he just totally came off like a major dick. It's your fans that put you where you are, don't ever forget that."
Chrissy Hobbs agreed: "You are a complete toolbag. You are here because of your fans. PERIOD. Take the damn picture and stop being a huge b**ch..."
But Rebecca Ralls sided with Lee: "I wouldn't want cameras in my family's face while they were eating. It's not a Motley Crue concert."
- Herald online