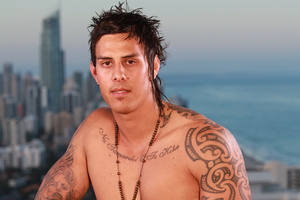 The couple who started their romance on the much-talked-about reality show The GC say they are keen to film another series.
Former X Factor Australia contestant Jade Louise Dewson and scaffolder Tame Noema announced they were an item towards the end of the eight-part TV3 series, set on Australia's Gold Coast.
Now they are embarking on three-week promotional tours of New Zealand - but they are touring separately and coy about whether they are still together.
The lovebirds tried to play down a relationship through the series and refrained from any displays of affection.
Noema, 23, is originally from Upper Hutt and has been enjoying his trips home. "It is a buzz getting recognised in the supermarket when I come back to New Zealand for a visit," he said. "I have been working as a scaffolder for six years and it would be good if the show led to a new career."
But is he still with Dewson? "I really don't want to say anything about that."
Dewson, 29, recently told a woman's magazine that Noema had moved into the Gold Coast home she shares with her 9-year-old son Harlan. She gushed about getting married, having children and "spending the rest of our lives together".
But she's no longer so gushy about the relationship. "I'm not talking about that," she said. "I only want to talk about my tour."
She said her mother would look after her son while she performed in New Zealand as he was too young to be on the road.
Dewson's singing career has soared since appearing on The GC - which followed a group of young Mozzies (Maori Aussies) living in the party town. Her debut single Vibrations recently shot to No 1 on iTunesNZ. She will perform it at her string of live dates, from Tauranga to Invercargill. The cast reunited on Thursday to shoot a video for the song. "It was great to have a bit of a get-together."