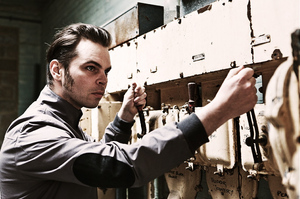 Don't be put off by the apocalyptic album title; Gaz Coombes is still the same sideburned loon who fronted Oxford rock act Supergrass for 17 years.
He's obviously been at a bit of a loose end since Supergrass split in 2010 after six occasionally great albums, so Here Come The Bombs is his first step towards a solo career.
Let's hope it's a long one, HCTB is so good it makes you wonder why Coombes didn't lose his bandmates sooner.
As the title suggests, it's a more sombre ride than the Pumping on the Stereo-style goofiness of his old band and there's more of a synthy indie-rock vibe than the loutish leanings of Supergrass.
But he's got a handful of great tracks here: the throbbing bass and vocal bursts of Whore, the darkened mutterings of Hot Fruit and the slow-burner Sub Divider, which erupts into a finale fitting of Supergrass at their best.
Things get weirder in the album's second half, with the adventurous spoken-word wonder Daydream on a Street Corner, and the dreamy, summery ballads White Noise and Sleeping Giant.
But best of all is the Phoenix-style 80s dance throb of Break the Silence that comes infused with bursts of scuzz-rock and enough woo-hoos to make Kings of Leon jealous.
It's moments like that that prove Coombes may have lost his band, but he's found himself in the process.
Stars: 4/5
Verdict: Supergrass front man still smoking the good stuff.
Buy a copy of Here Come The Bombs here.
- TimeOut