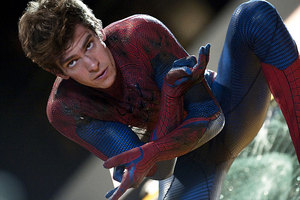 It's a reboot for a film series that only ended five years ago, but The Amazing Spider-Man is getting top marks from reviewers ahead of its New Zealand release.
The reboot, starring Andrew Garfield as the red webslinger and Emma Stone as his love interest, is released here on July 4.
Many have questioned the need for a reboot so soon after the original Spider-Man trilogy, starring Tobey Maguire, wound up in 2007.
But the film, directed by Marc Webb, has received positive reviews overseas, and currently has a 91 per cent approval rating on Rotten Tomatoes with 11 reviews.
"Has characters you can fall in love with, and bags of charm. The series is in safe hands," said Dave Golder from SFX Magazine in his four-star review that praised the director's touch.
"(Webb) directs the romance with charm; he directs the scenes with Parker learning about his powers with a perfect mix of humour and paranoia; he directs cheesy moments (and there are a couple) with such brazen gusto that you feel like cheering," he said.
The Guardian's reviewer, Andrew Pulver, agreed.
"It's the successul synthesis of the two - action and emotion - that means this Spider-Man is as enjoyable as it is impressive: Webb's control of mood and texture is near faultless as his film switches from teenage sulks to exhilarating airborne pyrotechnics."
The Hollywood Reporter's Jordan Mintzer said the results were "satisfying" and praised the film's supporting cast.
"While the two leads deliver the goods and manage to combine a frisky sense of first love with the movie's gloomier arc, they are well-served by a terrific supporting cast, with (Martin) Sheen as Peter's tough-loving guardian angel, Denis Leary as Gwen's overprotective policeman dad and (Rhys) Ifans as an increasingly mad scientist whose reptile leather fetish yields disastrous results."
One of the more negative reviews came from Empireonline with Ian Freer criticising some of the dialogue and the idea behind the film's big villain.
He said it fell short of Marvel's recent superhero hit The Avengers, but still awarded it three stars.
Watch the trailer for The Amazing Spider-Man:
- Herald online