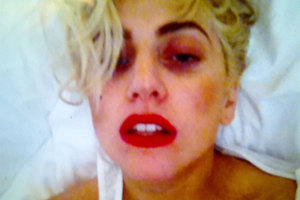 Lady Gaga has had a brain scan that shows there is "no harm" after the superstar pop singer suffered a serious concussion during a recent Auckland show.
The Born This Way star was performing at Vector Arena when a dancer knocked her in the head with a large metal pole.
She continued on with the show but later tweeted a photo of herself with a black eye, saying: "(Not sure) if I should go outside, with this clonker I may be of questionable styling."
Her make-up artist confirmed she had suffered a concussion.
Late last night, Gaga - who is on tour in Australia - said she had been for an MRI scan that showed there was no lasting damage from the incident.
"Went for an MRI. No harm from the concussion but it appears my brain is just water and a large floating jellyfish," she wrote on Twitter.
- Herald online