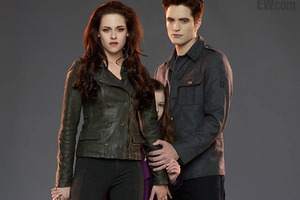 Bella and Edward's half-human, half-vampire baby Renesmee has been unveiled - and she's all grown up.
Renesmee, who was born in violent circumstances at the end of the last Twilight film, is at the centre of The Twilight Saga: Breaking Dawn Part 2, due for release in New Zealand on November 15.
The actress who plays Renesmee, 11-year-old Mackenzie Foy, has been unveiled on the cover of the latest edition of Entertainment Weekly.
Twilight director Bill Condon said Foy had a crucial role in the movie, and her off-screen relationship with co-stars Robert Pattinson and Kristen Stewart helped her settle into the role.
"It's a hugely important part," Condon told EW. "(Her co-stars) were amazing with her. It really brought something paternal out in Rob, and Kristen was especially protective.
I'd have to interrupt them when they were in deep conversation to get going with a scene."
Stewart said Foy's resemblence to her on-screen parents was spooky.
"Even our hands look similar. It was kind of strange. But it's funny how it actually helps. It's like, 'Oh, hey, you look like me, kid! Come on!'"
Check out more photos of Renesmee here.
- Herald online