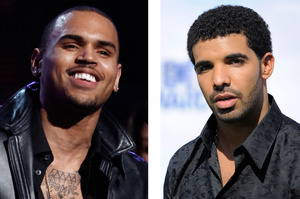 New York police shut down a nightclub after R&B singer Chris Brown and rapper Drake got into a brawl over fellow artist Rihanna which left eight injured, authorities and local media said.
A New York Police Department spokeswoman said the W.i.P. (Work in Progress) basement club in Manhattan's SoHo neighbourhood was closed due to unspecified "code violations".
"They were closed indefinitely until they clear up the violations," she added.
Among those injured in the fight in the early hours of Thursday were three black men aged 23 to 30, a black woman, two white women and two Hispanic women, according to police.
The spokeswoman, who would not reveal the victims' identities, said the injuries included lacerations to the face, forehead, neck, head and arm, a possible concussion and a contusion to the front of the head.
The New York Daily News cited a witness as saying that Drake, who briefly dated Rihanna after she broke up with Brown, started the brawl by hurling a bottle of alcohol at Brown.
"Drake threw the bottle at Brown, but it missed him and hit his bodyguard," aspiring director and musician Kenneth McCray told The News. "It looked like it was Drake that started throwing bottles."
McCray said he was standing nearby during the bloody confrontation between the two men's entourage.
"After Drake's crew threw a few bottles the other side started returning bottles," he added, noting that Drake also threw some punches and may have hit Brown or his bodyguard.
"It was crazy. Some of the bottles were already full. They were like bombs. People were running and screaming."
Brown's lawyer Mark Geragos said he had presented evidence that "clearly demonstrates that it is Drake who instigated all of this".
The singer, who assaulted Rihanna on the eve of the Grammy Awards in February 2009, required "numerous" stitches to close a wound to his chin, said Geragos, while his current girlfriend Karrueche Tran had a concussion and his bodyguard Big Pat needed 18 stitches to close a head wound.
NBA star Tony Parker, who plays for the San Antonio Spurs, was also said to have been hit in the eye by shards of glass, leaving him unable to play for at least a week.
Photos of the scene posted on Twitter and The New York Daily News showed dozens of bottles scattered across the room, with large shards of glass and liquor strewn across the floor.
- AFP