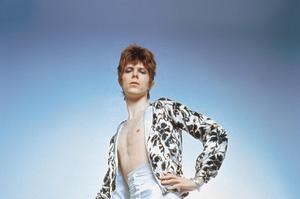 Judging by the indifference of people in swanky Heddon St just off London's Regent St, no one had read the blue wall plaque I was photographing. In London there are blue plaques everywhere commemorating something or other, so the nonchalance was expected. But the cool people's interest wasn't even piqued when my son and I started striking odd leg-up poses.
Heddon St was where - 40 years ago on a dank January night - David Bowie got a leg up and posed for the cover of his classic album The Rise and Fall of Ziggy Stardust and the Spiders From Mars.
Bowie and band had turned up for a cover shoot in Brian Ward's studio but when he suggested outdoor photos the band declined because it was so cold.
That left Bowie to pose - in a jumpsuit, booted leg up on step - under a watery light.
Ward shot in black and white but the photo was then hand-coloured by Terry Pastor - Bowie's jumpsuit blue, the atmosphere slightly bilious and hungover - to unwittingly create an iconic rock image.
A plaque now acknowledges this site and what was once a back street is today transformed into fashionable eateries and hip bars.
The cover didn't sell the album but the concept and music certainly did. As Richard Cromelin noted in his Rolling Stone review at the time, Ziggy Stardust was "Bowie's most thematically ambitious, musically coherent album to date, the record in which he unites the major strengths of his previous work ..."
In its mash-up of Velvet Underground angst, glam rock, dramatic pop, ambiguous sexuality and the concept of a starman coming to Earth with an apocalyptic warning, Bowie finally became the superstar he had longed to be. Ziggy Stardust leaped into the world as a fully formed album, and a character whom he played.
The concept was clever - some songs are third person and others by Ziggy, the live band on stage sharing their name with that on the album - so multiple interpretations immediately took hold.
When Gary Kemp of Spandau Ballet unveiled the plaque, he said, "Ziggy was the ultimate messianic rock star and with him David Bowie successfully blurred the lines, not just between boys and girls, but himself and his creation".
True. Bowie insisted journalists call him Ziggy: "That was when it all started to sour," Bowie said later. "My whole personality was affected. It became very dangerous. I really did have doubts about my sanity."
Fortunately he'd written a way out in the final song, Rock and Roll Suicide and almost a year to the day after the album's release he pulled the plug at the Hammersmith Odeon.
Given Ziggy was such a creation of its era - high-concept glam, fashion, buzz-cut hair and role play - it's remarkable the album doesn't feel like a slightly-soiled period piece.
The quality of the songs - brittle, tender, abrasive, and chock full of hooks, drama and allusive lyrics - has given it longevity.
David Fricke of Rolling Stone observed it was "a marvel of genetic pop engineering, a brilliant and authentic collision of classic rock 'n' roll extremes - erotic frenzy, gender confusion, celebrity arrogance, private dread - animated by the ring of truth in Bowie's scenarios of apocalyptic fear and the futurist punk snort of the Spiders from Mars".
The remastered 40th anniversary reissue - of an album reissued many times previously - comes with no extra tracks. It doesn't need them.
Ziggy Stardust is an irresistible and essential rock album, and the cover is kind of cool, too.
Stars: 5/5
Verdict: The definitive rock 'n' roll concept album and analysis of the art form
- TimeOut