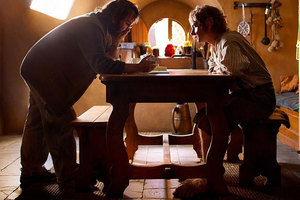 Peter Jackson has posted his seventh behind-the-scenes video diary from the set of The Hobbit.
In it, he takes viewers on a guided tour of Stone Street Studios in Wellington, one of the sites where two Hobbit films are being shot back-to-back.
The 14-minute clip also includes footage of hobbits floating down a river in barrels, and ends with a celebrity cameo appearance.
Earlier this week it was announced that The Hobbit's world premiere would be held in Wellington on November 28.
The Hobbit: An Unexpected Journey is due out on December 13.
Watch the video:
- Herald online