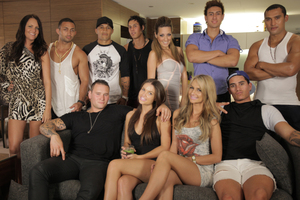 The "Mozzie" stars of The GC came onto New Zealand screens with a bang last month but it appears the reality show was not enough for some Kiwis, with many turning to Google to find out even more about the show.
Google yesterday released its list of the top 10 fastest-rising searches in New Zealand for May.
It showed TV3's The GC was searched 300 per cent more times than it was in April. The reality show follows the lives of a group of Maori (Mozzies) living on the Gold Coast as they chase fame and fortune.
Diablo 3 - the third instalment in a dark action game series released in the US on May 15 - came in shortly behind The GC, with a 250 per cent increase on the previous month.
An episode of Target in which a carpet cleaner was caught allegedly doing indecent acts in a house appears to have boosted the show's profile, with the search word "target" coming in third on the list and up 140 per cent.
The only search to appear more than once on the list was American Idol, with "american idol 2012" in fifth place and "american idol" in seventh place. American Idol announced its 2012 winner live on May 23.
Shortland Street was searched 100 per cent more last month - when it celebrated its 20th anniversary - than in April.
BIGGEST MOVERS
Google searches in May
1. The GC+300 per cent
2. Diablo 3+250 per cent
3. Target+140 per cent
4. Facebook log in+130 per cent
5. American Idol 2012+120 per cent
6. All Blacks+100 per cent
7. American Idol+100 per cent
8. Shortland Street+100 per cent
9. Math games+60 per cent
10. Geonet+60 per cent.