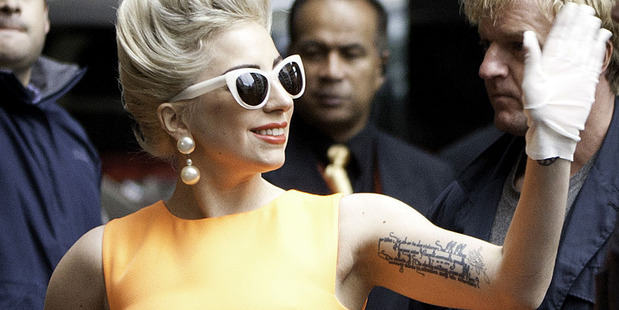 Pop superstar Lady Gaga landed in New Zealand today - and she didn't waste any time in meeting her Kiwi fans.
Photos: Lady Gaga in Auckland
Video: Gagamania in Auckland
Send us your Lady Gaga photos here
The Born This Way singer touched down in Auckland this morning ahead of three scheduled shows at Vector Arena later this week.
After clearing customs, Gaga headed straight for her inner city hotel for a quick lunchtime meet-and-greet with around 80 screaming fans and waiting media.
Wearing a bright orange dress, white gloves and high heels, she spent about five minutes chatting to fans before heading into her hotel.
Fans chanted "Gaga ... Gaga" as her motorcade pulled into the hotel's driveway, and some were rewarded with a brief chat and photo with their idol.
"I'm never washing my hands again," said one fan after posing for a photo with the singer.
"She's a very special performer, it's great for her to come to New Zealand and it was worth it standing in the rain waiting for her," said another.
Fans who have left it to the last minute will be pleased to know there are still tickets left to the three Gaga shows, available from Ticketmaster.
Online auction site Trade Me also has several users selling tickets.
Lady Gaga's Born This Way Ball
Where: Vector Arena, Auckland
Where: Thursday, Friday and Sunday, 7.30pm
- Herald online