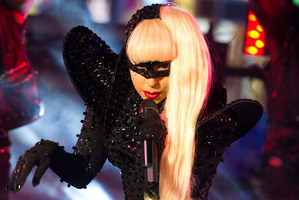 Fans of Lady Gaga are hoping for a close encounter when she touches down in Auckland this week.
The United States superstar is to play three concerts at the Vector Arena, starting on Thursday.
Student Waldo Williams, who is attending the singer's Thursday show and is a self-professed Gaga expert, said he had been rehearsing what he would say to the star since the beginning of the year.
"The first person in line [at the stadium] gets to meet her, and then the closer to the stage you are the better because she picks out random people ... and you go backstage to meet her.
"I think I'm lining up the night before or early Thursday morning. I just know I'm going to meet her."
Social networking sites Facebook and Twitter have been abuzz with rumours about when the star and her "Haus of Gaga" tour team will arrive, with one fan posting that she was due to arrive on a private jet at 2pm today.
Mr Williams, who is studying fashion design and technology, said she could turn up "on the day or a few hours before the first show".
"We'll know when she is coming because she'll obviously tweet something like 'bye bye Singapore. Hello New Zealand'."
Another fan, Kate Hema, has been trying, without success, to find out which hotel Gaga will be staying at in Auckland.
"I bought my tickets the minute they went on sale and I really want to meet her."
Fans who have left it to the last minute will be pleased to know there are still tickets left to the three Gaga shows, available from Ticketmaster.
Online auction site Trade Me also has several users selling tickets.
SHOWTIME
* Lady Gaga's Born This Way Ball
* Thursday, Friday and Sunday, 7.30pm
* Vector Arena, Auckland.