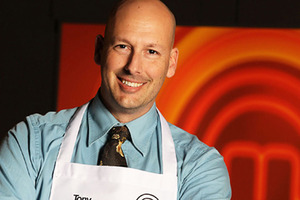 Controversial MasterChef contestant Tony Price did the right thing by dobbing in two contestants for cheating, say fans in a new online poll.
Price, a landscaper from Auckland, sparked an outcry after "narking" on two contestants for swapping ingredients during a Singapore-based challenge in the latest episode of the TV One cooking show.
The two women involved in the incident, Ana Schwarz and Chelsea Winter, were initially punished with Price and fellow contestant Brenton Thornton being awarded the challenge's prize.
But Thornton was later eliminated, and nzherald.co.nz was swamped by feedback from viewers, some claiming one of the "cheaters" should have gone home in his place.
"They are in a competition. In any other competition the cheater would have been eliminated. That's what should have happened in this case," said one reader.
That view was backed by voters in an online poll that asked readers the question: "Did Tony do the right thing by narking on two contestants for trading ingredients?"
An overwhelming 57 per cent of the poll's 3000 voters backed Price and said either Winter or Schwarz should have been eliminated instead of Thornton.
Another 18 per cent said Price did the right thing, but Thornton should still have gone home, while 19 per cent said the incident shouldn't have affected the outcome of the challenge.
Only 6 per cent said Tony should have been eliminated for narking.
Thornton told nzherald.co.nz that he backed Price's decision, despite the incident causing tension between contestants.
"I firmly believe that Tony did the right thing. There was no clarification of what we could and couldn't do," Thornton said.
"A lot of people are calling him a 'nark', but there is $100,000 on the line and people need to put themselves in that position and really think if they would have done that."
He said Price was feeling the pressure after the episode had aired.
"I feel for him, a lot of people are giving him a hard time. But if it came down to it, and people understood the pressure we were under ... $100,000 could change your life.
"I stand by Tony and what he did, he's a good man. I'm sure people in sporting situations, they'd let people know if they felt cheated."
- Herald online