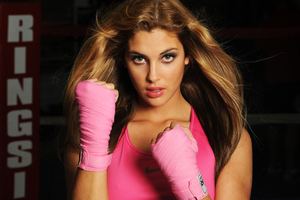 Jaime Ridge is to take on a bikini-clad reality television star from The GC in an unlikely boxing bout scheduled for July.
Ridge, the daughter of former Kiwis captain and All Black Matthew Ridge, has been training for her televised boxing debut, to be held on July 5.
The 18-year-old is understood to be fighting reality star and glamour model Rosanna Arkle from TV3's controversial show about "mozzies", The GC, in the undercard match at the KFC Godfather of Fight Nights.
A source said Arkles was insisting on fighting in just a bikini. Fairfax Media reported the fight would consist of three two-minute rounds, and said Arkle, from Whangerei, flew into Auckland yesterday.
The fight was set to be confirmed today at 11am.
The main fight at the event, to be held at the SkyCity Convention Centre, is between heavyweights Shane Cameron and American Monte Barrett.
Ridge's interest in boxing may have been piqued during her short-lived romance with All Black Sonny Bill Williams.
She sat ringside during Williams' heavyweight title debacle against Clarence Tillman III, and was photographed with him afterwards.
Ridge has been training with former Warrior Monty Betham, now a boxer.
Betham would not be drawn on what he was training Ridge for, but said they had been working together for about a week.
It is understood Ridge is giving training her all - to the point of vomiting following a run up One Tree Hill.
"Training is going good," Betham said. "She's training really hard.
"It brought a few tears to her eyes on Sunday during [a] really hard session - quite a few tears actually."
"I was hoping there'd be a bit of her father in her - that athletic and mental approach.
"There's a long way to go still, but she's improving.
"I've only worked with her for a week and she's improved in that time. I'm pretty happy with that."
Betham and Ridge have also been tweeting about their sessions.
"Got to go through pain to gain," she said on Twitter after one session.
"Jaime was not only punctual this morning. She was early ... Another session in the bank J," Beetham said later.
It is unclear whether Ridge's gym sessions will be filmed as part of a pilot for a reality TV show also starring her mother, Sally.