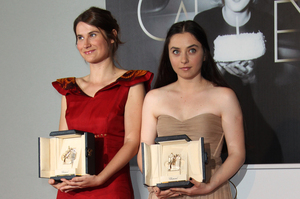 Two Romanians shared the Cannes best actress prize today for their roles as best friends, a nun and the victim of a deadly "exorcism", in Cristian Mungiu's Beyond the Hills.
Cosmina Stratan and Cristina Flutur appear in the harrowing picture by the director who captured the 2007 Palme d'Or for the Communist-era abortion drama 4 Years, 3 Months and 2 Days. He also won the screenplay prize this year.
Stratan was born in 1984 in Iasi and studied journalism in the northern Romanian city - which is also the birthplace of Mungiu - before going to acting school in Bucharest.
She played in several shorts during her studies and wrote for the same newspaper as Mungiu before his film career took off.
Beyond the Hills is her first feature film role.
Flutur, born in 1978, is another native of Iasi and studied languages in the city's university before going on to acting school. Upon graduation in 2004 she was taken on by national theatre in Sibiu, where she currently works.
Beyond the Hills is also her first feature film role.
The movie is based on a horrific 2005 case in which a young woman died after an Orthodox Church session in a remote monastery of eastern Romania to rid her of purported demons.
Mungiu has said that in 4 Months, 3 Weeks and 2 Days, he aimed to capture the bleakness of late 1980s Romania and used the metaphor of lack of access to safe and legal abortion to depict the powerlessness of average citizens.
The film left hardened critics at Cannes squirming at scenes in which a back-alley abortionist exacts a terrible price for two young women's budding sexuality.
Beyond the Hills also looks at two young women bound by an intimate friendship who try to navigate in a hostile world with each other's support.
Flutur plays Alina, who grows up with her best friend Voichita, played by Stratan, in the notoriously grim orphanages set up by dictator Nicolae Ceausescu.
The picture charts the diverging paths of the two women as young adults, with Voichita choosing God and becoming a nun while Alina seeks a fresh start in Germany.