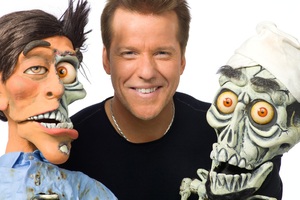 American comedy star and ventriloquist Jeff Dunham is heading to New Zealand for the first time along with his cast of characters including Walter the grumpy retiree, beer-swilling redneck Bubba J and spicy pepper from south of the border, Jose Jalapeno.
Hailed by Time magazine as the most popular comedian in the US, he performs at Vector Arena on August 19.
Dunham, who starred alongside New Zealand's Jemaine Clement in 2010 film Dinner For Schmucks, may have conceived and handcrafted his characters but these dummies take on a life of their own and are dead set on challenging and chastising him.
His fascination with ventriloquism began at age eight when his parents gave him a toy dummy and an accompanying instructional record album.
By the time he was 10, Dunham was performing anywhere he could find an audience.
Tickets go on sale May 30 from Ticketmaster.
- TimeOut