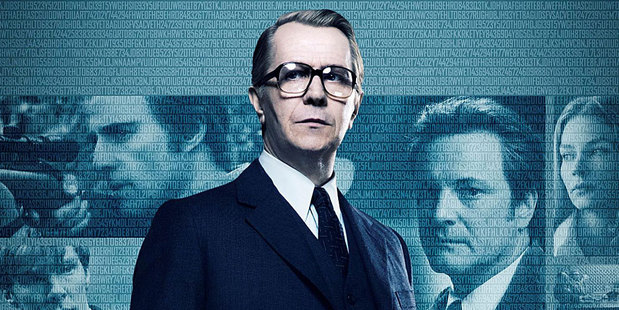 The movie adaptation of John le Carre's classic spy novel Tinker Tailor Soldier Spy is about to be released on DVD, and to celebrate nzherald.co.nz has five prize packs to give away!
When a disgraced spy surfaces with information concerning a double agent at the top of the British secret service, George Smiley (Gary Oldman), an ex-MI6 agent, is drawn back into the murky field of espionage.
Tasked with investigating which of his trusted former colleagues has chosen to betray him and their country, Smiley narrows his search to four suspects - all experienced, skilled and successful agents.
However, past histories, rivalries and friendships make it far from easy to pinpoint the man who is eating away at the heart of the British establishment.

Tinker Tailor Soldier Spy features an acting masterclass from the best of British film including Gary Oldman (The Dark Knight), Colin Firth (The King's Speech), Tom Hardy (Inception), Mark Strong (Kick-Ass) and Benedict Cumberbatch (Sherlock).
Tinker Tailor Soldier Spy is released on May 16.
Thanks to Universal Pictures, nzherald.co.nz has five prize packs to give away. Each includes a copy of the DVD and a copy of the book.
Enter the competition here.
Terms and conditions:
1. Information on how to enter and prizes form part of these terms and conditions. Any entry not complying with these terms and conditions is invalid.
2. Employees of the Promoter, the Promoter's associated companies, the Promoter's agencies and partners associated with this promotion and their immediate families are ineligible to enter.
3. Participants may enter only once each day of the Promotion Period. Any form of automated entry using any other devices or software is invalid.
4. The promotion closes at 4pm on Friday, May 25, 2012.
5. The promoter reserves the right to verify the validity of entries and reserves the right to disqualify any entrant for tampering with the entry process or for submitting an entry, which is not in accordance with the Conditions of Entry.
6. The prize consists of a copy of Tinker Tailor Soldier Spy on DVD, and a copy of the novel.
7. The prize is not exchangeable, transferable or redeemable for cash
8. The Promoter reserves the right to substitute any prize for one of comparable type, quality and value.
9. The Promoter reserves the right to withdraw this promotion or any part of this promotion should their ability to fulfil due obligations be limited at any stage by any form of technical failure.
10. The winners will be notified by email and/or telephone.
11. Entry into this promotion implies full acceptance of all terms and conditions.
12. The winners consent to their names being used for public relations purposes relating to this promotion.
13. Promoters decision is final and no correspondence will be entered into.
14. No responsibility will be taken for late, lost or misdirected entries.
15. The Promoter is APN National Publishing, 46 Albert Street, Auckland.
- Herald online