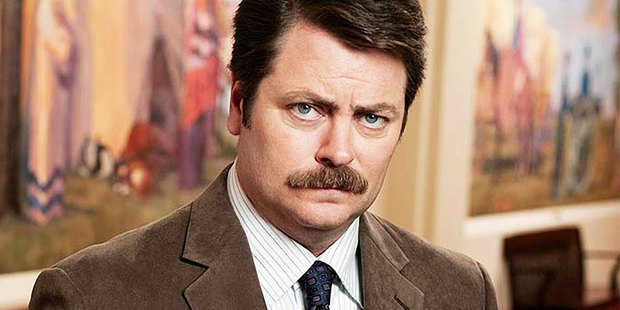 Time could be up for one of television's best characters: Ron Swanson, from comedy show Parks and Recreation.
Reports suggest American network NBC will axe three of the most critically acclaimed comedy shows on TV - 30 Rock, Community and Parks and Recreation - after their next seasons.
Although nothing has been confirmed by NBC, the New York Daily News reports all three shows will be given final, shortened seasons - including a 13-episode swansong for Emmy-winning show 30 Rock.
Reaction on Twitter was swift and mostly negative. One user was so fired up they had already organising a petition aimed at getting NBC to continue Parks for as long possible.
"Just found out they're cancelling Parks and Recreation. My life is over," said another Twitter user.
Sources told E! Online the reports were "false and premature ... That has not been finalised yet."
While the shows aren't huge ratings winners, all are critically acclaimed - and in government employee Ron Swanson Parks and Recreation boasts one of the best characters currently on TV screens.
A no-nonsense man who enjoys whittling, log cabins and bacon, Swanson's dry wit, hatred of office protocol and complete lack of emotion is the highlight of every episode.
Parks' fourth season finale aired in America overnight. It screens on Four in New Zealand.
NBC has confirmed it will screen six new comedy shows: Go On, Save Me, The New Normal, 1600 Penn and Animal Practice.
The Office, now past its prime after the departure of Steve Carell's dimwitted office manager Michael Scott, will reportedly continue on for another season.
NBC will make its upcoming lineup official on Sunday.
- Herald online