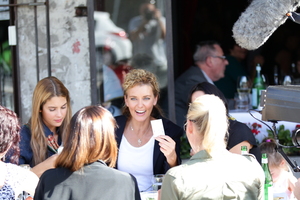 TV3 say they are reviewing the concept of a reality show featuring Sally Ridge and her daughter Jaime.
The news, previously denied by the network, comes after the celebrity duo were spotted being filmed at a Ponsonby restaurant together today.
A photo of a camera crew filming the Ridges was posted to More FM Breakfast's Facebook page.
TV3 programme director, Kelly Martin, is backing down from a previous statement in which she described a Kardashians-style Ridge reality show as "nonsense."
"I think some filming is happening [by a production company] to try and convince us that there is rich material for a reality show," said Martin.
MediaWorks spokeswoman Polly Viccars said intense public speculation, following the Diary's story, had prompted TV3 to investigate the idea.
"Given the response to the initial suggestion that a show was happening with the Ridges, we decided to investigate further."