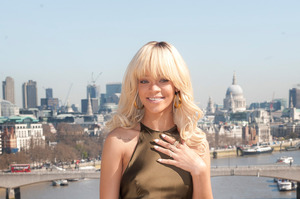 Rihanna's family want her to come home.
When she isn't working long days, the 24-year-old We Found Love hitmaker is partying the night away in clubs and bars across the globe, and her little brother Rorrey admits her nearest and dearest wish she would take some time off and return to Barbados.
He told the Daily Star newspaper: "Ri tells us she is homesick and misses Barbados and the family a lot. I wish she'd come home and live here for a while.
"She's exhausted and sometimes works 13 hours a day. She started partying at 14 years old, going to clubs and drinking. It's the Caribbean island life. Everyone just has fun, you know what I mean.
"Ri loves to party and I'm the same. But if she looks depressed it's because of how hard she's been working and she needs to come home."
But it looks as though their wish could be a long way off coming true now that the singer is house-hunting in the UK, where she plans to spend the summer whilst filming a new fashion reality show.
A source said: "Rihanna is coming back to Britain to shoot her Sky Living reality show and has decided to settle down a bit while she's over.
"Although there may be occasional trips away she'll be based in London. Rihanna has instructed her team to find a mansion in or around the capital.
"Earlier this year she considered buying a property in east London but now she's looking elsewhere as she's decided the pad will need gates to keep away superfans and photographers."
- BANG! Showbiz