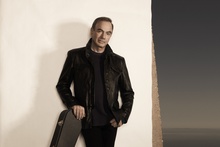 Neil Diamond has married for the third time - exchanging vows with a woman three decades his junior.
The 71-year-old singer married his manager Katie McNeil, 42, on Saturday in front of family and close friends in Los Angeles.
It is Miss McNeil's first marriage.
The couple, who share a £35million mansion in LA, met when she was the executive producer of a 2009 documentary film about the singer, called Neil Diamond: Hot August Night NYC.
Diamond, who has written and performed dozens of hits, including Sweet Caroline, used his official Twitter page to announce their engagement last September, writing: 'Good news coming from sunny LA/ and you're the first I want to tell/ Katie and I just got engaged/ and I hope you wish us well.' He later posted a picture of his wife to be, writing: 'I'd like you to meet Katie. I'm lovestruck.'
Diamond married school sweetheart Jayne Posner in 1963. The couple had two daughters, but divorced in 1969.
Later that year he wed Marcia Murphey, a production assistant, and they had two sons.
When they split in 1995, he had to pay £93.1million.
Their divorce settlement was the most expensive in the world at the time.
In November 2010, Diamond said he still hoped to settle down.
He said: 'I like having a woman. I like having someone to come home to, to make all of the hard work feel worth it.
'I need someone with me. And I want someone.
'I find that these things just tend to happen. It's like writing a great song. You can't plan to write a great song. It just happens to you. It drops in your lap. It's the same thing with a woman.'
-BANG! Showbiz