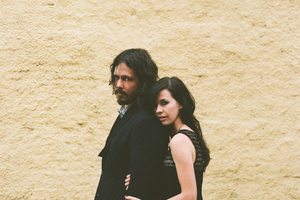 Though both Joy Williams and John Paul White had moderately successful solo careers, this Nashville-based pair have more than doubled their money by becoming a duo. There's a certain appealing romance in the way their voices wind around each other.
The most immediate comparison that springs to mind is the Swell Season (the duo who found fame with the film Once), though the Civil Wars have a more gothic, Americana-based, Southern style. They certainly are civil though, their guileless and simple approach creating songs which are both easily palatable, and intimate. The songs mostly tread round the tensions between heartache and love, with lovely arrangements which push their voices to the fore, supported by finger-picking guitar, mandolin, fiddle, acoustic bass, and string sections, with some piano, occasional organ and even more occasional percussion. Williams' voice is overly breathy and emotive at times, but is nicely tempered by White's gentle croon. I've Got This Friend is a charming folk story, and on title track Barton Hollow they show off their more dramatic, bluesier, 70s rock influences, with a bit of Southern stomp and roll. However, there are a few songs towards the centre of the album that overdo a similar lovelorn sound and sentiment which doesn't live up to the promise.
The six bonus tracks, mostly creative covers, including Billie Jean, are worth a listen though.
Stars: 3.5/5
Verdict: Promising debut from sweet folk duo who just need a little more variation
-TimeOut