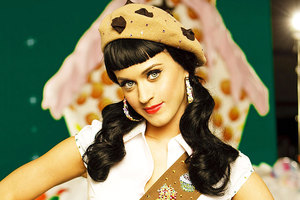 Katy Perry exposes her private life in a new documentary on the chart-topping pop star.
The first trailer for Katy Perry: Part Of Me has been revealed, showing behind-the-scenes footage of the Firework singer baring all for the camera.
It documents Perry's early beginnings as a Christian singer, being dropped by her record label and battling what she calls "depressing, dark times".
All that changed when she released her hit single I Kissed a Girl. But the movie also delves into her recent marriage break down with British comedian Russell Brand.
The Daily Mail reported the documentary was filmed during last year's California Dreams world tour and includes interviews with family members and close friends.
Perry also promises "eye-popping" 3D sequences.
"The word 'cheap' was not in the vocabulary. Hello - it's 3D. You're going to get hit with a lot of shit," she says.
Katy Perry: Part of Me is due out later in the year.
Watch the trailer for Katy Perry: Part of Me:
- Herald online