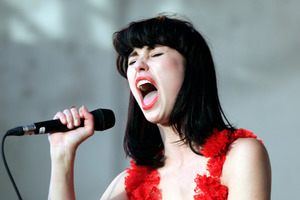 Kiwi singer Kimbra's global hit song will be making an appearance on the hit television show Glee.
A sneak peek of upcoming episodes of Glee put online by Fox television show guest star Matt Bomer and co-star Darren Criss performing a duet of the Gotye/Kimbra hit song Somebody That I Used To Know. New episodes of Glee begin in the United States on April 10.
The song by Gotye and Hamilton-born Kimbra has been number one in nine countries, including New Zealand and Britain. The video has received more than 139 million views on YouTube.
Kimbra also recently performed at America's influential South By Southwest festival.
There's no word yet on when the Glee episode will air in New Zealand.
Watch the Glee preview here:
The video for Somebody That I Used To Know:
- Herald Online