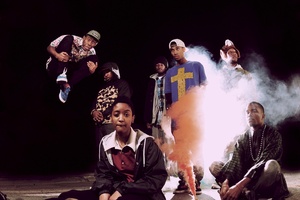 Tyler, Hodgy, Domo, Left Brain and Syd tha Kid - start memorising those names because soon you won't be able to forget them, or any member of 11-piece rap group Odd Future.
The Californian collective's debut studio album sees ringleader Tyler the Creator's foul-mouthed friends maturing into serious hip-hop heavyweights.
That's thanks to a refining of their brutal and oppressive rap style, toning down previous mixtape release extremism to deliver their most enjoyable and accessible set yet.
There are still odd moments of goofing around and bursts of expletives, like on the hilarious romantic ballad Analog 2/Wheels 2, but mostly this is a master class in explosive hip-hop, like the Kanye West chants of Forest Green, the Portishead-style tension of Snow White and the clipped, loping stride of Dom.
Like their scintillating Auckland show in January, Odd Future's energy and charisma shines throughout, whether spitting rhymes about jet skiing with Sean Kingston over P's shuddering bass, trading verses throughout the aggressive minimalism of NY (Ned Flander), or Tyler thrilling with his filthy stream-of-consciousness verse on Rella.
But it's on last song Oldie, that Odd Future really come of age.
Over laid-back horn stabs, every rapper gets a chance to shine - even mysterious cult figure Earl.
It proves that hip-hop's future is looking very odd indeed.
Stars: 4/5
Verdict: Wise-cracking rappers graduate to the top of the class.
Buy this album here.
-TimeOut