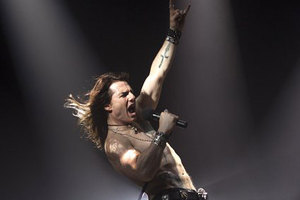 1. It's like Glee for hair metallers. And it looks as bad as that sounds. So prepare to hate yourself for watching the new trailer for Rock of Ages, an '80s musical set to the tunes of Bon Jovi and Def Leppard. It stars Tom Cruise as an ageing rocker called - wait for it - Jaxx and an entire cast of celebs singing songs that are probably best forgotten. Wait for the end to hear Cruise singing Bon Jovi's Wanted Dead or Alive. Awful. (Apple)
2. In breaking news, the entire cast of the upcoming Avengers movie has been axed and replaced by Nicolas Cage, who will play every role - including Black Widow. Sounds awesome, right? Here's the poster. (Uproxx.com)
3. Garbage are back and they're in a bit of a mood, judging by the gloomy black-and-white video for new single Blood For Poppies.
I used to have a major crush on Shirley Manson. Now I'm not so sure... (Stereogum)
4. Charlize Theron sex tape! Charlize Theron apologises for said sex tape! Behind-the-scenes of Charlize Theron's sex tape! Funny Or Die have been in April Fool's Day overdrive lately. (Funnyordie.com)
5. Someone gave Seth McFarlane way too much money to make a movie and he came up with Ted, a film about a foul-mouthed talking bear. How Mark Wahlberg and Mila Kunis ended up in this is anyone's guess. Warning: The trailer below contains explicit content, foul language and bad jokes. (YouTube)
6. Producer Forty One has remixed David Dallas' 2011 album The Rose Tint into a chopped-and-screwed-style remix record, and it's pretty decent. The whole thing is up for a pay-what-you-want download right here. (The Corner)
7. The full Total Recall trailer has landed. I like it. A lot. So go watch it now. (Apple)
8. Here are 32 important lessons that unwitting Facebook users have learnt the hard way. Don't read these in the office - you'll be splurting muffin all over your screen in no time. (Buzzfeed)
9. This is the cover for Fiona Apple's weirdly-titled new album. My kid could draw that. (Pitchfork)
10. Yesterday I made my debut as a roving TV reporter at Shihad's secret show at the Manukau Police Station. Stop laughing. I know I'm no David Farrier. (nzherald.co.nz)
* Seen anything worth sharing? Post your own links below.