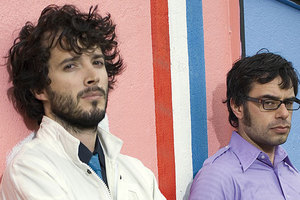 Overwhelming demand has seen another Flight of the Conchords show added to their potentially record-breaking tour.
Pre-sale tickets for the band's first Vector Arena show on July 1 sold out in half an hour this morning, leading promoters to confirm a second show on June 29.
It follows huge demand for a 10-date theatre tour around the country, tickets for which sold out in minutes when they went on sale.
TimeOut this morning predicted the show would bring in almost $2 million in ticket sales.
Concert bosses say the Vector Arena shows will be more high-tech than the town hall-sized concerts.
"There will be big screens and extra speakers covering the arena to ensure everyone in the room gets the full Conchords' experience," co-promoter Stuart Clumpas said.
Pre-sale tickets for both Vector Arena shows, which also feature stand-up comic Arj Barker, will go on sale via ticketmaster.co.nz on Friday morning.
The tickets go on general release on Saturday at 1pm.
Meanwhile, Bell Biv Divoe have pulled out of their upcoming New Zealand show.
A press release issued this morning said the R&B band and rapper Ginuwine couldn't make it for their May 28 show because of the "unexpected reunion of New Edition for a North American tour".
Full refunds were available.
Flight of the Conchords tour dates:
June 13: Hawkes Bay Opera House, Hastings
June 14: Founders Theatre, Hamilton
June 16: Town Hall, Auckland
June 17: TSB Showplace, New Plymouth
June 19: Michael Fowler Centre, Wellington
June 20: Michael Fowler Centre, Wellington
June 21: Michael Fowler Centre, Wellington
June 23: Regent Theatre, Dunedin
June 24: Events Centre, Queenstown
June 26: CBS Canterbury Arena, Christchurch
June 27: Trafalgar Centre, Nelson
June 29: Vector Arena, Auckland
July 1: Vector Arena, Auckland
- Herald online