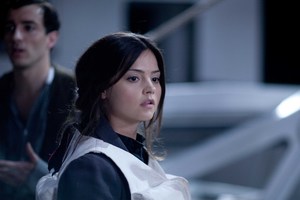 Former Emmerdale star Jenna-Louise Coleman has been revealed as Dr Who's newest companion.
Coleman will replace Karen Gillan, joining Matt Smith on the sci-fi TV show for the first time in this year's Christmas special.
"I'm beyond excited, I can't wait to get cracking. Working alongside Matt I know is going to be enormous fun and a huge adventure," she told the Daily Mail.
Doctor Who writer Steven Moffat described Coleman's chemistry with Smith as "like a miracle".
"It always feels like a miracle when you find the right person because we saw a lot of brilliant actresses," he told news agency PAA.
"There was a moment I remember from the second time she came in, and they were auditioning together and they both looked frightened doing a Doctor Who scene, and it just was an instant poster."
Coleman's appearance on Emmerdale was controversial, with her character Jasmine Thomas sharing a kiss with another female character.
She also starred in a four-part TV series based on the sinking of the Titanic.
- Herald online