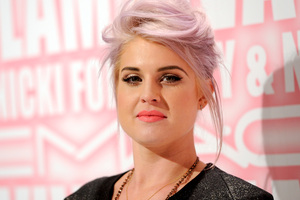 Kelly Osbourne has hit out at a paparazzi photographer after she was "body slammed" by him.
The Fashion Police host was outraged at being harmed by the photojournalist, but she was even more cross when he asked her about her brother Jack Osbourne's dead dog Lola, who passed away last month.
She wrote on Twitter: "It's always nice to get body slammed by a pap! Who then proceeded to ask me how I felt about my brothers dog dying! #WhatADouche (sic)"
The 27-year-old star has previously expressed her devastation at the 12-year-old Bulldog's death, and she admitted it was "really taking its toll" on her.

She tweeted: "night night tweet hearts not doing so good losing @PrincessLolaO is really taking its toal on me! (sic)"
Jack, 26, broke the news of his pooch's death to his fans on twitter last month, and he later praised his supporters for their messages of support.
In a series of tweets, he wrote: "Lola you were the best friend anyone could ever have. I will love you and miss you always. RIP @PrincessLolaO (sic).
"Thank you all for the kind words about @PrincessLolaO it's nice to know she was loved by so many people. (sic)"
- Bang! Showbiz