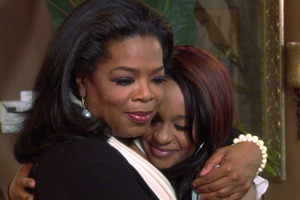 Oprah Winfrey, left, embraces Bobbi Kristina, daughter of the late singer Whitney Houston during an interview in Atlanta. Photo / Harpo Inc via AP
Oprah Winfrey's exclusive interview with Whitney Houston's daughter and has given the media mogul's OWN TV network its biggest ratings.
More than 3.5 million people tuned in to watch the 90-minute cable TV special in America on Sunday night.
Oprah landed the first interview with teenager Bobbi Kristina since her mother died.
The special, which was filmed at Patricia Houston's Atlanta, Georgia, home was aired on the one-month anniversary of Houston's death.
- AAP