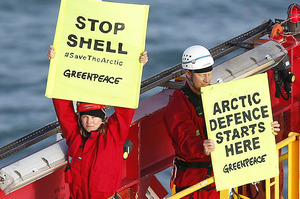 Kiwi actress Lucy Lawless says she was a "bundle of nerves" after spending 77 hours on top of an oil ship in New Plymouth and several more in a jail cell.
Lawless, the star of TV shows Spartacus and Xena: Warrior Princess, was among seven Greenpeace protesters charged after a four-day demonstration aboard a Shell drillship in Port Taranaki.
The group face burglary charges after the protest, which carry a maximum penalty of 10 years in prison and could affect Lawless' ability to travel to America for work. A trial is set for March 20.
The 43-year-old told this week's edition of New Zealand Woman's Weekly it was the first time she had actively broken the law.
"It's hard to explain, but it feels like everything I've ever done has led up to this moment," Lawless said. "After the past few days, I'm a bundle of nerves, I'm all jangly."
Spending several hours in jail after police scaled the vessel's drilling tower and arrested the protesters were among "the worst of my life," she said.
"I've never been arrested or had any connection with the police - all I could think was, 'What the hell am I, a mum, doing protesting on a drilling derrick.'
"But I really wanted to stand up for something I feel passionate about."
Lawless said fans who only knew her from her television work didn't realise "how completely mental I am".
"Being up there, living on nuts and chocolate in a confined space, isn't for everyone."
- Herald Online