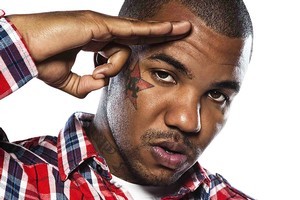 A dose of thuggish West Coast hip-hop is coming to Vector Arena this weekend as American rapper Game - rated as one of the world's best - hits New Zealand.
The controversial face behind hits like Dope Boys and How We Do will be performing at Vector Arena, his second visit to New Zealand following shows in Auckland and Rotorua in 2009.
He didn't appear for his part of the Rock the Block concert in Auckland in 2007, also featuring Akon, PItbull and Sisqo.
But fans will be hoping Game comes armed with plenty of his thuggish anthems, like Hate It Or Love It and Dreams from his 2005 breakthrough The Documentary.
He'll also be playing songs from last year's The Red Album, like Red Nation and Martians and Goblins. That album received mixed reviews, but still hit No. 1 on the Billboard album charts.
He's rated by everyone from Dr Dre to Eminem and Pharrell Williams, who called him the "quintessential MC" in 2010.
"I'm sorry, he's one of the best," he said at the time.
Game, real name Jayceon Taylor, told Volume he was already working on his next album, and hinted that he might play new material at the show.
"I'm a vet now," he said. "I'm just starting to work on my fifth album, so I'm bringing a lot of new material."
The rapper, who famously beefed with 50 Cent after leaving his G-Unit collective, said arguments between hip-hop stars were just part of the industry.
"The first thing that people say when people are beefing is, 'Oh, that's just to sell records.' Number one: Duh, that's our job to sell records. Two: You might actually have a problem with somebody, and the only way we should address that is to beef on record.
"It's good for music and, as long as it doesn't turn violent, it's cool."
Game is due on stage at 9.30pm and will be supported by Kiwi rapper Savage. Tickets are available through Ticketmaster.
What: Game & Savage
Where: Vector Arena, Auckland
When: Saturday, February 25
* nzherald.co.nz will have a full review after the show.
- Herald online