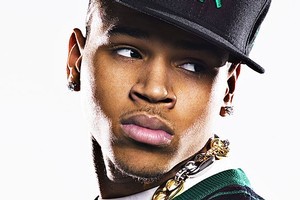 Another day, another Twitter feud for R&B star Chris Brown.
And, surprisingly, this bout of verbal gymnastics has nothing to do with Brown's No. 1 anti-fan, country music singer Miranda Lambert.
Brown's latest target? WWE star CM Punk.
It all kicked off when the heavyweight champ fired off a seemingly random tweet aimed at the Beautiful People singer.
"I would like @chrisbrown fight somebody that can defend themselves," Punk wrote on Monday. "Me curb stomping that turd would be a #wrestlemania moment."
Brown swiftly shot back at the wrestler.
"@CMpunk needs more followers. Such a leader! Not to mention the roids hes on has made it utterly impossible for him pleasure a women (sic)," he sniped in a tweet, which has subsequently been deleted.
He later added sarcastically: "Positivity regardless of how u feel! @CMpunk contact my assistant and I'll have em send u an autographed pic for my biggest FAN!!!"
Brown also came under fire last week after his performance and subsequent win at the Grammy Awards.
Singer Lambert tweeted her displeasure at seeing Brown being honoured by the Grammys.
"Chris Brown twice? I don't get it. He beat on a girl..." she wrote.
"Not cool that we act like that didn't happen."
'I will choke you out ...'
Needless to say, Punk has responded to the steroid allegations.
He released a video, branding Brown a "coward" and suggesting that the singer hasn't "paid" for his 2009 assault on ex-girlfriend Rihanna.
"I'm a lifelong, proud, drug-free straight edge individual," Punk says, after claiming that he didn't mention Brown to gain publicity.
"So, Chris and I come from two completely different worlds. I don't have a manager. I don't have a bodyguard. I don't need a bodyguard. I don't have an assistant. I have no need for a PR team to tell me what to tweet or when to delete tweets. And I don't hit women. Period.
"See, in my world, women are to be revered and respected. I firmly believe that in this life, there are consequences and repercussions for your actions and I don't think Chris has paid for what he's done. Picking up trash along the highway does not make amends for repeatedly striking a woman in the face and sending her to the hospital."
He then challenges Brown to a fight for charity.
"So, Chris wants to throw stones my way now and I say that's fine. But, put some gloves on and get in the ring," he says.
"I will make you feel as weak and as powerless and as scared and alone as any woman who has had the misfortune of knowing such a scared, cowardly little boy such as yourself," Punk says in the clip.
"All proceeds can go to a women's shelter of my choosing, if you want to pick up more trash on the side of a highway to make some amends, that's fine. Maybe you should donate some more time, telling kids that exactly what you did isn't right."
He concludes: "But I'm also a realist and I know that none of these things will happen because Chris Brown isn't a man. That's fine. I just know that some day, somewhere, somehow, somebody will put Chris Brown exactly where it belongs. It honestly doesn't have to be me. I would just really like it to be."
Check out Punk's video below:
Brown responded to the video in a series of tweets.
"@cmpunk the video u just posted was cute! It's so funny how defensive u are.
"And the fact that I really don't know who you are and could give a s*** is the funny part!" Brown wrote.
"I really hope this 15 minutes of fame is paying you for the long run becuz music last forever! Wrestlers come and go according to ratings!
Brown added: "I miss the real wrestlers! (Hacksaw Jim duggan, Brett the hitman heart, coco beware, rowdy roddy piper) #Notnopunks. THE ROCK #Notnopunks.
"Note:today will be the last day I bring @cmpunk existence up!The confrontations that people continuously bring my way are very amusing. Cuz honestly, that shit is too time consuming to argue wit every person who has their own issues to deal with!"
Over to you, Punk.
Blogger's Briefs
And finally ... feast your peepers on this lot:
* Baby buzz: Are Drew Barrymore and fiancé Will Kopelman looking forward to more than just a wedding?
* Bobby Brown planning to tell-all about Whitney Houston? A lid-flipping book may be on the horizon.
* Ah, love is: Jennifer Aniston likens her new man to a serial killer.
* She's on a roll, and on the up: Lindsay Lohan in "home stretch" of probation, judge says.
* Britney spears to become X-Factor USA judge?
* Mel Gibson has "nothing to do" with Charlize Theron's Mad Max reboot, but doesn't rule out cameo as a snake.
* Keep your thumb below the bum: Mike Myers coaches Kevin Kline on Oscars etiquette:
P.S. Join nzherald.co.nz for full coverage of the 84th Academy Awards, including the Red Carpet streaming live, on Monday.
- Blogger Bites Back