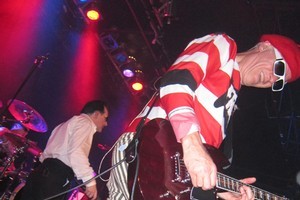 Welcome to vintage clothing night at The Powerstation; all across Auckland people in their 40s and 50s could be heard demanding to know where their Ramones T-shirt was.
"Unbeknown to my stepdad," whispered a diminutive young lad from Hamilton in a Sex Pistols T-shirt, "I'm stage-diving tonight." Hamilton also had very distinct ideas of what he wanted from the setlist. So did everybody else. It's been 35 years since The Damned were formed and 25 years since they have played in New Zealand, a remarkable statistic given that in the UK they never really went away. The back catalogue is extensive, occasionally patchy but often astonishing.
For example, track for track The Black Album is better than The Sex Pistols Never Mind the Bollocks and The Clash's London Calling - there, I f**king said it. That was the point where frontman Dave Vanian spread his bat wings and enshrouded The (formally erratic, cartoon, but sporadically brilliant) Damned in an edgy darkness they have never lost.
They open with the first three tracks of The Black Album; Wait for the Blackout, Lively Arts, and the one song the only other original member (guitarist Captain Sensible) can be trusted to sing, Silly Kids Games. They later add a mesmerising 13th Floor Vendetta and a spine-tingling History of the World.
Vanian brought a slick vampire cool to punk rock before there was any such thing as goth, and he maintains his mystique by letting Sensible do most of the talking. He glides across the stage effortlessly for a man over 1000 years old, and the richness in his vocals on Shadow of Love and Feel the Pain is nothing short of magnificent.
It could have all gone horribly wrong - only seven songs in some Muppet threw a drink at Captain Sensible and he walked off, Vanian leading the other three members off after him. They came back on after the culprit was removed, with Sensible proclaiming his new found love for Auckland. Not as trite as it sounds, as he was earlier seen walking up from K Road with a bag full of shopping.
The Damned have, by their standards, had a pretty stable lineup recently (even Sensible wasn't a member for over 10 years), and it shows. A 30+ year veteran fan rang from Scotland last month to say he had just seen them: "I have never seen them so good. I fear they may have been practising." Tonight they proved this unlikely statement true, knocking out a tight, hard, best-of set; New Rose, Love Song and Neat, Neat, Neat, but also a blistering Ignite and a seldom-heard Anti-Pope. At one point a diminutive kid in a Sex Pistols T-shirt sprinted across the stage and flew into the crowd while his stepdad shook his head.
The encore featured Eloise and a frantic Smash it Up. "A funny thing growing old," said Sensible at one point. "I don't know about you, but I don't intend going quietly." Apparently not.
Who: The Damned
Where: The Powerstation, Auckland
When: Wednesday 25 January